Beta version of Talent Copy V is released for download.
New in this release:
--improved write performance
Now you can use read speed and write speed values displayed by Talent Copy to benchmark / test your HDD / SSD / RAID read speed and HDD / SSD / RAID write speed in real tasks.Talent Copy is appropriate for HDDs in RAID configuration of any type.With Talent Copy you get maximum from your SSD drive.
Talent Copy is appropriate for SSD drives because it splits files copy operation on read operation and write operation and in this way allows SSD drives to work at maximum speed having maximum files copy performance.
Description:
Copy files in HDD friendly way, preventing HDD from wearing and damage, when source and destination are located on same physical drive.
Speed is better than default windows copy and difference increase rapidly with increasing count of small files.
Any HDD activity at time while files are copied with Talent Copy V, caused be external to Talent Copy V process degrades file copy performance.
Talent Copy uses advanced algorithm to limit empty HDD head moves, HDD waste, noise and power on file copying and increase file copy speed dramatically.
On windows vista test for copying of folder containing 6686 jpeg files and 143 sub folders, with size of 513MB Talent Copy was 3 times faster and a lot quiet than default windows copy.
release date: 18.12.2011 (dd/mm/yyyy)
program: Talent Copy
version: 0.0.0.150 beta
size: 842KB
autor: Ventsislav Alexandriyski
Interface: English
OS: 32/64 bit Windows 2000/XP/2003/Vista/2008/7
web site: http://www.nezavisim.com
Awards: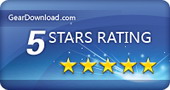 History:

Click here to get Talent Copy V 0.0.0.139

Click here to get Talent Copy V 0.0.0.134

Click here to get version with cached writes - Talent Copy V 0.0.0.128

Click here to get last version with dynamic buffer - Talent Copy V 0.0.0.91